Since February 11, 2021, house owners in New Zealand can apply to the lease court to terminate the open contract on the grounds of anti-social behavior.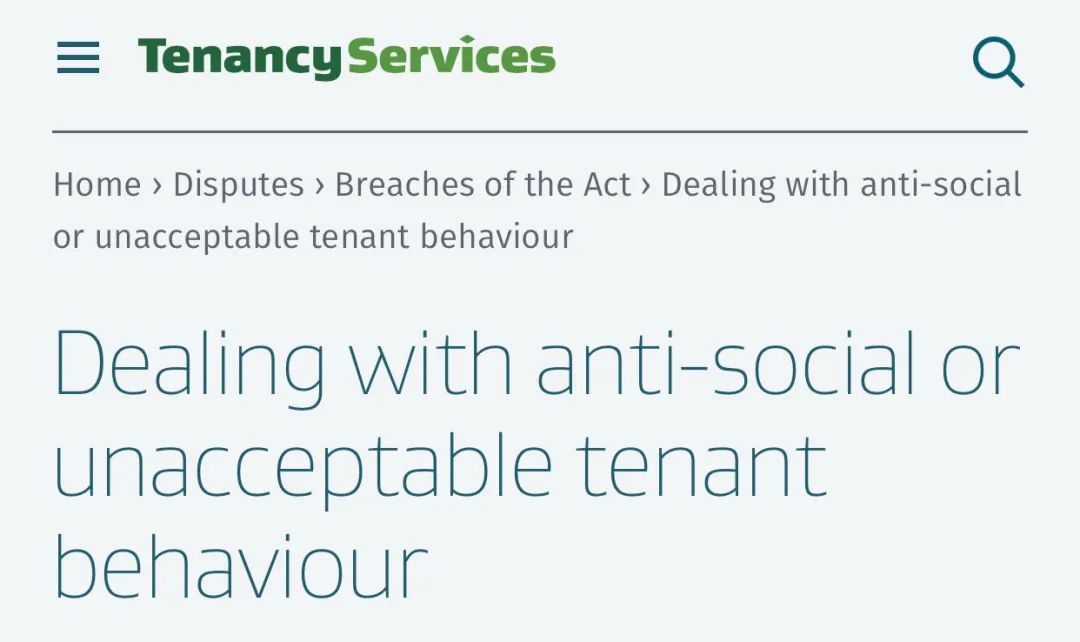 What is antisocial behaviour?
Depending on the situation, general cases of behaviours that may be regarded as antisocial include:

Aggressive behaviour towards neighbours or other tenants, causing panic or distress to them.
Repeatedly parking in shared lanes, especially when it brings inconvenience to others to move their vehicles.
Leaving rubbish in public areas for long periods of time.
Making too much noise.
Conducting worrying or fearful behaviours, including acts or remarks expressing hatred.
Snooping on someone's house or invading others' privacy through a monitor.
Causing damage to neighbourhood property or public property.

(The scope of antisocial behaviours will be reviewed regularly and revised.)
How should the house owner terminate the lease in the face of tenants with antisocial behaviours?
If the tenant (or a person in the house with the tenant's permission) conducts anti-social behaviour, the house owner can send him a notice.

If anti-social behaviour occurs three times within 90 days, the house owner can apply to the court to terminate the lease. The house owner must give effective notice every time antisocial behaviour occurs.

The notice must clearly state:

What is the specific antisocial behaviour
Who has conducted the antisocial behaviour (if the house owner knows)
The date, approximate time and place of the behaviour
The number of notices issued within the 90-day period against the same tenant's antisocial behaviours (the tenant has the right to challenge the notices in the tribunal)

Note:

The house owner must apply to the Tenancy Tribunal for termination of the tenancy within 28 days after the third notice is given to the tenant.
Case analysis
A house owner in New Zealand has submitted 16 noise complaints to the district councils in 6 months, stating that the tenant has made numerous noises in the early hours of the morning

The house owner's complaints include:

The alarm sounded at 3:23am in the morning
Repeated loud taps at 1:55am in the morning
Sound from shaking the metal can at 2:10am in the morning
Loud banging and shouting
Loud TV noise

The court finally ruled that the tenant did commit antisocial behaviours and terminated the tenant's lease.
As a house owner, if you also find that your tenant has antisocial behaviours but you don't know how to solve it, please contact Mission Property. We will provide you with the most professional advice.
Not sure what to do? we are here to help

Get Started